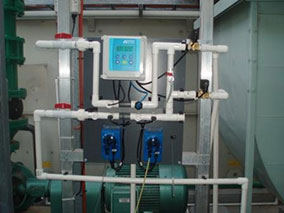 As with most cost effective maintenance programs, equipment and automated processes used in chemical dosing are very effective for otherwise time consuming manual tasks.
Once Tandex has completed a full site survey of your plant and equipment, our report and recommendations include a range of options for controllers and automated dosing systems for both heating and cooling water systems. Tandex also offers a range of corrosion monitoring equipment to help maximise the life of your systems.
For large applications, Tandex has developed a diagnostic unit to offer a full diagnostic analysis of cooling water systems prior to equipment being purchased to ensure the best possible equipment solution for each application.
Tandex equipment range includes:
Complete Controllers
Data Loggers
Bromine Tablet / Granule Feeders
Bleed Controllers
Metering Pumps
Corrosion Coupon Manifolds
Dosing Tundish
Dosing Pots
Safety Signage